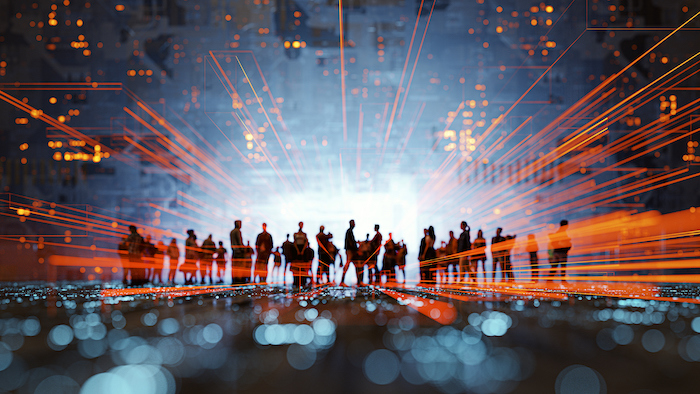 Back to Blog
So how do we apply UX thinking to experience design?
While it's easy to think of events in the macro and see your audience as a monolithic group, UX principles show us how helpful it can be to think of user/attendee needs at the individual level. This means considering both the "why" and the "how" for different types of community members.
Why are they there?
What types of experiences will make them feel like the event was worthwhile and fulfilling? Are they seeking an escape? To learn something new? Or to feel some sense of connection or belonging?
How are they most likely to engage?
How do different individuals tend to interact with experiences based on their personas? How do they interact with one another, with content, or with speakers? What tactics, formats, and opportunities will help them connect to an experience more quickly or more deeply?
By answering these questions individually, we can make an event more resonant and engaging for the communities we're working to support—across all demographics and psychographics, across all learning and engagement styles. Getting down to the individual level for events that cater to hundreds or thousands of people can be challenging, but we know that this approach creates more resonant experiences for all—and positions us to continually and more deeply engage communities over the long-haul as a result.
One of the tools that helps accomplish this in the world of experience design is the engagement framework—a strategic outline that puts our clients' communities front and center and equips us to make practical design choices that significantly deepen engagement.
What is an event engagement framework?
Engagement frameworks help steer us away from a one-size fits all mentality. They keep macro event goals in mind while also helping us to be purposeful, intentional, and considerate of individual motivations and personalities. They consist of two main components:
A narrative anthem or mission statement that defines our engagement goals
Every AJ event starts with a central theme or thesis that zeroes in on both the overarching goal of the event and the experience we want people to have. We ask:
What do we want people to gain from their time at the event?
What types of experiences are going to facilitate this best?
And then we write a statement that keeps these core goals top of mind throughout the event planning process. We may want to "inspire new levels of innovation and creativity with an open-minded, exploratory experience," or "celebrate success through dynamic, relational opportunities for connection."
Whatever it is, this mission becomes the event's creative brief, and a way for us to get specific about the real needs of our clients and their communities. Everyone wants an engaging event, but the elements that make successful engagement a reality will always be unique to the culture and context of those in attendance—something this narrative element of the framework is designed to capture and focus.
Audience engagement archetypes that focus event personalization
An effective event engagement framework helps us understand and design for the types of community members a client expects to host. Are they explorers who love to hop spontaneously from activity to activity? Connectors eager to network and socialize? Planners who know exactly what sessions they want to attend and don't want to miss a moment?
We work with our clients to create 3-5 archetypes that call out participant motivations, interaction styles, and needs. Then we use these archetypes to help us tailor the event space, resources, and exhibits to make sure there's something there for everyone.
A static event design with one proscenium stage, a podium, and a sea of folding chairs might work for 10% of those who attend an event, but it will never be optimal for all. A strategic set of audience archetypes can give you the design input you need to welcome the diverse crowd that is sure to show up.
How do we use engagement frameworks?
We use engagement frameworks to inform not only creative and strategic output, but design and aesthetic choices, and the activations, content, and types of interaction within an event—all of which create the foundation for strong, individualized relationships with community members and sustained engagement over time.
This process is the science that helps us establish consultative, "trusted advisor" relationships with our clients—and ensure that every activation and every touchpoint is user-driven and creates engaged attendees.
At August Jackson, we connect people with brands, with culture, and with one another, inspiring communities of action to advance their larger mission. Connect with us to see how we can support your next experience.