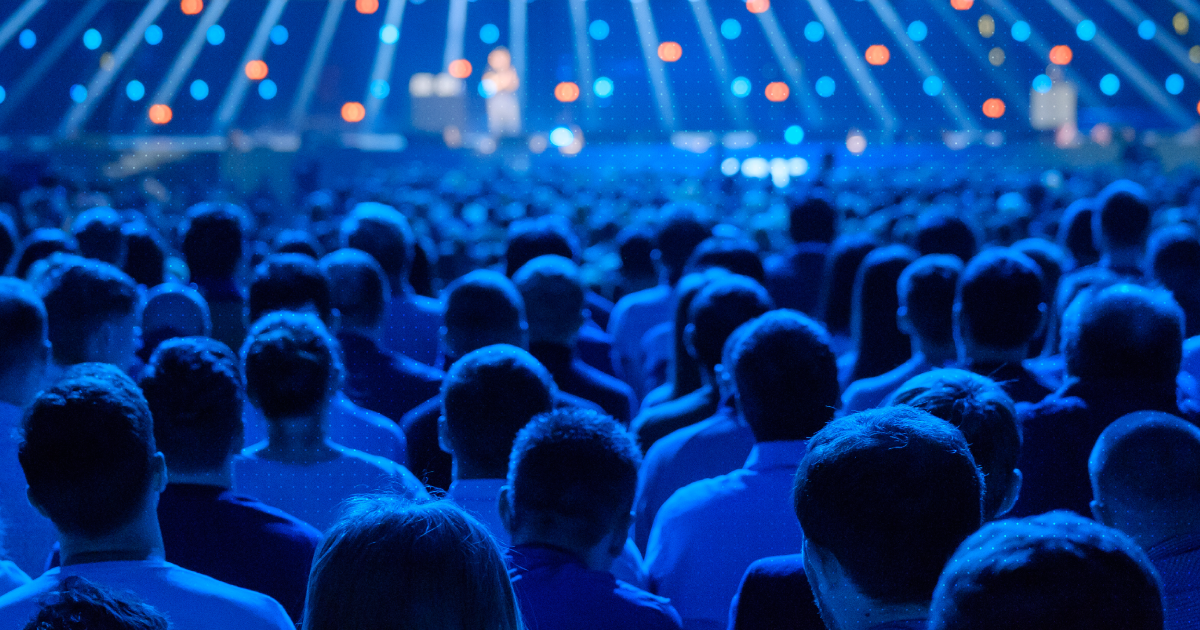 Back to Blog
Authenticity and Audacity Defined
The environment of a higher education fundraising campaign launch should assist with storytelling – not be the focal point. To achieve this, focus on creating an authentic connection. Authenticity is all about reconnecting with the audience, with your alumni, with your donors.
Provide touchpoints that remind your former students of the traditions, the culture, and the experiences they shared while on campus. Connect with their nostalgia. Once that sense of familiarity is established, you can reveal your audacious message.
Merriam-Webster defines audacious as daring, bold, and something marked by originality. Universities are hallmarks of innovation and their fundraising campaigns support visions for the future that have far-reaching impacts on many aspects of society.
Designing an Authentic Environment
Although your vision is bold and innovative, the event design should be a facilitator for the campaign brand. To create the perfect mixture of authenticity and audaciousness in your next campaign launch, follow these three steps
Step 1: Listen and Gather Details
Identify the aspects of your institution or campus culture that resonate the most with alumni and donors. Touchpoints could be architectural designs or iconic spots on campus. How can you remind them of their shared experiences or recreate them in some way?
For example, one client school used traditional architectural elements, such as time period pieces and scenic furniture selections, to mimic the look and feel of campus. The traditional elements became a base for the modern elements, like an interactive touchscreen, that were introduced as the campaign vision was revealed.
Questions to consider at this stage:
What makes our institution different and unique?
What are the signature ways faculty, students, and alumni connect and interact?
Step 2: Create a Design that Connects
You want to create spaces that inspire conversations while delivering experiences that are simultaneously personal, relevant, and shareable. By using the authentic connectors you discovered, you can design an environment that guides attendees through your narrative journey.
Use signage to label where faculty or featured speakers are, inviting attendees to take a moment to ask questions or reconnect. Incorporate high-top tables juxtaposed with lounge areas, for example. Varied furniture and seating arrangements foster different kinds of interactions and conversations.
The venue location is also a critical component. Depending on your narrative arc – how the campaign brand will be revealed –a one-room location might be segmented into various areas to match the progression of the event or maybe a multiroom location suits better.
The goal is to create an environment that facilitates, prompts, and encourages engagements between speakers, faculty, staff, donors, alumni, and even students who are present to share their latest experiences.
Another university designed a campaign environment to support a feeling of forward progression. Red fabric at the beginning provided a sense of acceleration while the interactive stations around the perimeter were opportunities for engagement. Authentic references were a photo booth with symbolic locations on campus.
The Virtual Environment
For a virtual event, consider how attendees will interact while in the event, such as through emoji reactors or the ability to leave comments. Adjust the background of speakers to match the event journey or make registration an engaging experience by allowing people to submit questions for the speakers.
Step 3: Compose the Journey
The event journey is reflected in the environment and will likely include a variety of contrasting elements, like formal and informal or present versus future. Consider how the space can support those contrasts. For individual moments, such as cocktail hour, set up tables and chairs that invite conversation, and for the collective experience, like the brand reveal, utilize stadium seating.
The key question to answer is: What is the desired experience over time and with what touchpoints? Armed with the insight gained in the first step and the venue's characteristics, you can craft an authentic event to support your audacious message.
At August Jackson, we create experiences that strengthen connections, activate communities, and encourage conversation. Connect with us to see how we can support your next campaign launch.